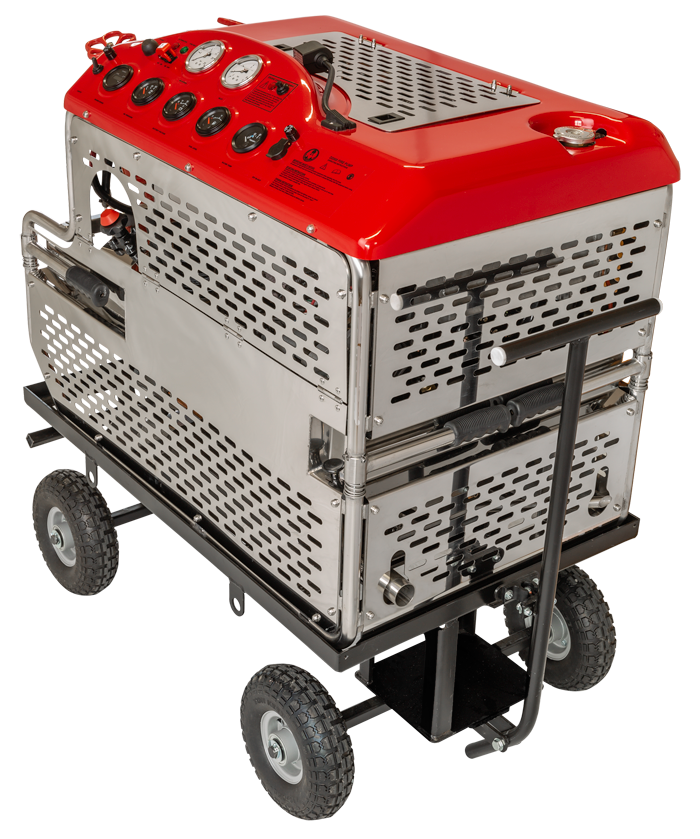 A large diesel portable marine fire pump that combines the benefit of high pressure fire fighting performance with large water transfer properties.
FEATURES AND SPECIFICATIONS
Marine Firefighting and Salvage
At 2000 litre/minute at 7 bar means a marine fire service can run four 500 litre/minute hand lines effortlessly. In other salvage relief situations where flow rather than pressure is critical, the D2000 gives exceptional performance delivering over 2500 litres/minute (with flooded suction). When you need big and grunty the D2000 is it.
Engine Series:
4JB1 57kW
Description:
4 cylinder inline diesel, OHV, Direct injection, Naturally aspirated, water-cooled through heat exchanger, minimum fuel consumption at full load 230g/kWh
Displacement:
2700cc
Type:
4 cycle
Lubrication:
Full Pressure Lubrication
Starting:
12 volt Electric Starter
Fuel Tank:
Integral 16 Litre – 1 hour run time
Battery:
12 Volt
Maximum Power:
57kW @ 3600 RPM
Type of Pump Transfer:
Combination: Pressure/Volume
Intake:
100mm BSRT Female BSP
Discharge:
Twin 64mm Globe Valves
Volute Body and Head:
LG2 Bronze
Impeller:
LG2 Bronze
Wear Rings:
Long Wearing Acetyl, Economical to replace.
Shaft Seal:
Spring Loaded Mechanical
Priming:
Fast and effective priming is provided by the simple to operate exhaust eject primer. The pump will prime 3 metres in 20 seconds and to a maximum of 7 metres.
Frame Type:
Full Wrap Around Stainless Steel
All the Operating Controls and Instrumentation are located in one area making it easy to read and operate:
FEATURES
Engine ON/OFF Switch
Automatic engine pre-heat for cold starts
Push Button Start
Engine Hours Run Meter
Throttle Control
Alternator Charge Warning Lamp
Pump Pressure Gauge
Outlet pressure gauge
Pump Compound Gauge
Flexible Halogen night light
Water Temperature Gauge
Battery Voltage Meter
Oil Pressure Gauge
Fuel Level Gauge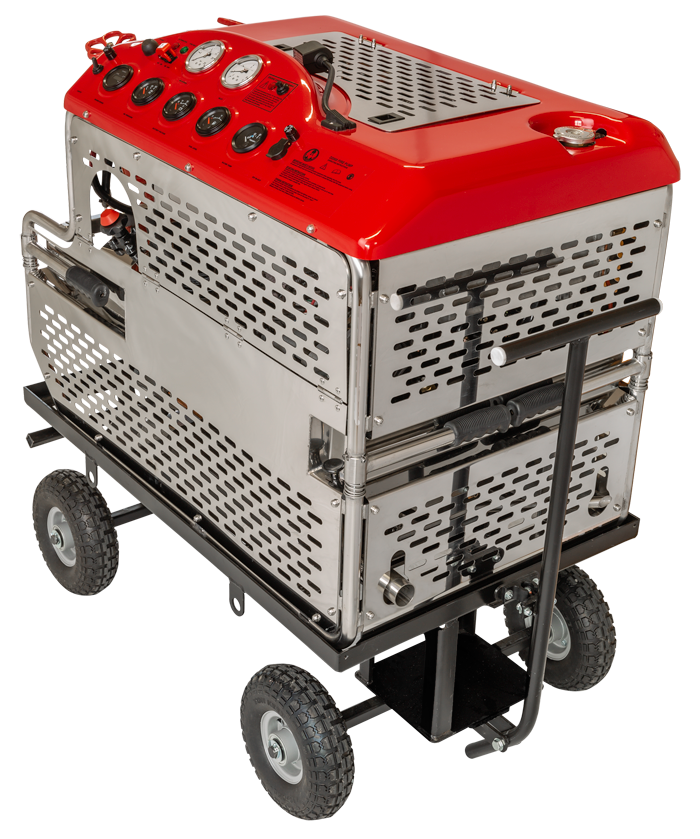 Focus on the job, not on your equipment.
Phoenix Firepump is technology you simply won't need to worry about.
This is the way technology should be.