A powerful lightweight portable fire pump that combines the benefit of high pressure firefighting with optimum water transfer properties backed up with ultra fuel efficiency. This is quality redefined.
FEATURES AND SPECIFICATIONS
Never second guess your first instinct with the reliability of the Phoenix Firepump built to handle the pressure. Improving Performance by Maximising Efficiency.
That's how we're able to ensure the best for fire pumps with the highest demands. Decades of experience and continually pushing the boundaries of what is possible in portable fire pump design and innovation has culminated in our most beautiful, progressive fuel-injected engine ever. Powerful, effective, efficient.
Engine Series:
Briggs & Stratton Model 61E3770
Description:
Vanguard V-Twin Air-Cooled 4 Cycle Overhead Valve Electronically Fuel Injected
Displacement:
993cc
Type:
4 cycle
Lubrication:
Full Pressure lubrication
Starting:
12 Volt Electric Starter with Manual Recoil
Fuel Tank:
Stainless Steel Integral 10 Litre – 1 hours run time
Battery:
12 volt VRLA
Maximum Power:
37HP @ 3600 RPM
Type of Pump Transfer: 
Combination: Pressure/Volume
Intake:
4" (100mm) BSRT or 3-1/2" (75mm) FMBSP
Discharge: 
Twin 2-1/2" (64mm) MBSP Globe Valves
Volute Body and Head:
CC601 Marine Grade Aluminium Heat Treated to T6 condition
Impeller:
CC601 Marine Grade Aluminium
Optional LG2 Bronze available
Wear Rings:
Long Wearing Acetyl, Economical to replace.
Shaft Seal:
Spring Loaded Carbon Ceramic
Priming:
Dry Rotary Vane, will prime 3 metres in 10 seconds & 7m in 30 seconds
Frame Type:
Full Wrap Around Stainless Steel
All the Operating Controls and Instrumentation are located in one area making it easy to read and operate:
FEATURES
Engine On/Off Switch
Push Button Engine Start
12volt Inlet/Outlet Socket
Engine Hours Run Meter
Voltage Meter
Oil Pressure Meter
Fuel Level Meter
Throttle Control
Push Button Primer
Pump Pressure Gauge
Pump Compound Gauge
LED Lighting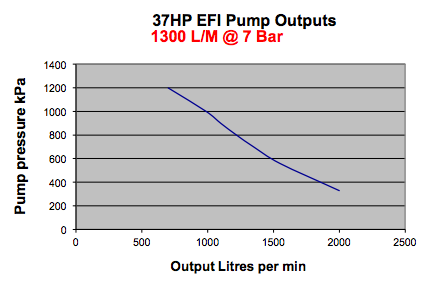 NOMINAL TECHNICAL SPECIFICATION:
Typical Performance at 3 metre suction lift

2.0 bar

1,800 litres/minute

4 bar

1,650 litres/minute

6 bar

1,450 litres/minute

7 bar

1,320 litres/minute

10 bar

980 litres/minute
ADDITIONAL FEATURES INCLUDE:
Twin 63mm screw down globe valves which will allow for a variety of coupling types.
Inlet 100mm BSRT (or optoinal 3.5″ FBSP to take a variety of inlet adaptors)
A large stainless steel fuel tank with capacity of 10.0 litres or the optional 12L Plastic fuel tank that ensures the fuel supply will last for up to 1 hour at maximum throttle opening.
Electric starting is standard with a 12 – volt negative earth system. The battery is a 12V VRLA type and is completely maintenance free. This type of battery can stay fully charged for up to 12 months without the need for recharging. A sealed regulator and internal 55 amp alternator provides reliable power. A robust hand start allows the engine to be started in the event of low battery power.
Extras include LED flood lighting.
Municipal Fire Brigades
1300 litre/minute at 7 bar means a fire service can run two 650 litre/minute hand lines effortlessly.
Rural Fire Fighters
The powerful 993cc engine means that both urban and rural fire fighters can get maximum performance out of the 129Kg package (Fully operational including full fuel tank and oil).
Flood Relief
In situations where flow rate rather than pressure is needed the SupaJet 1300EFI delivers over 1800 Litres per minute (with flooded suction).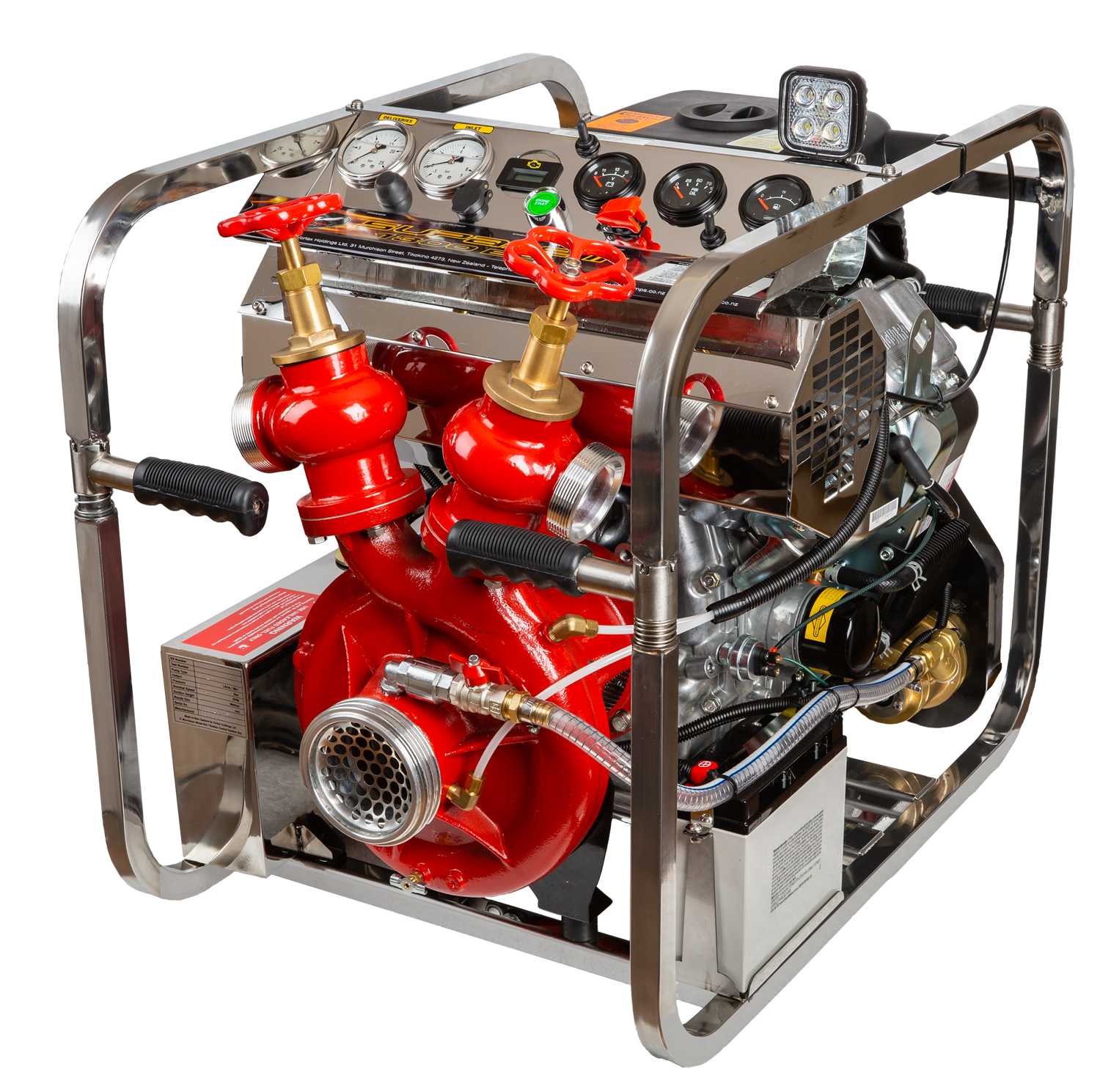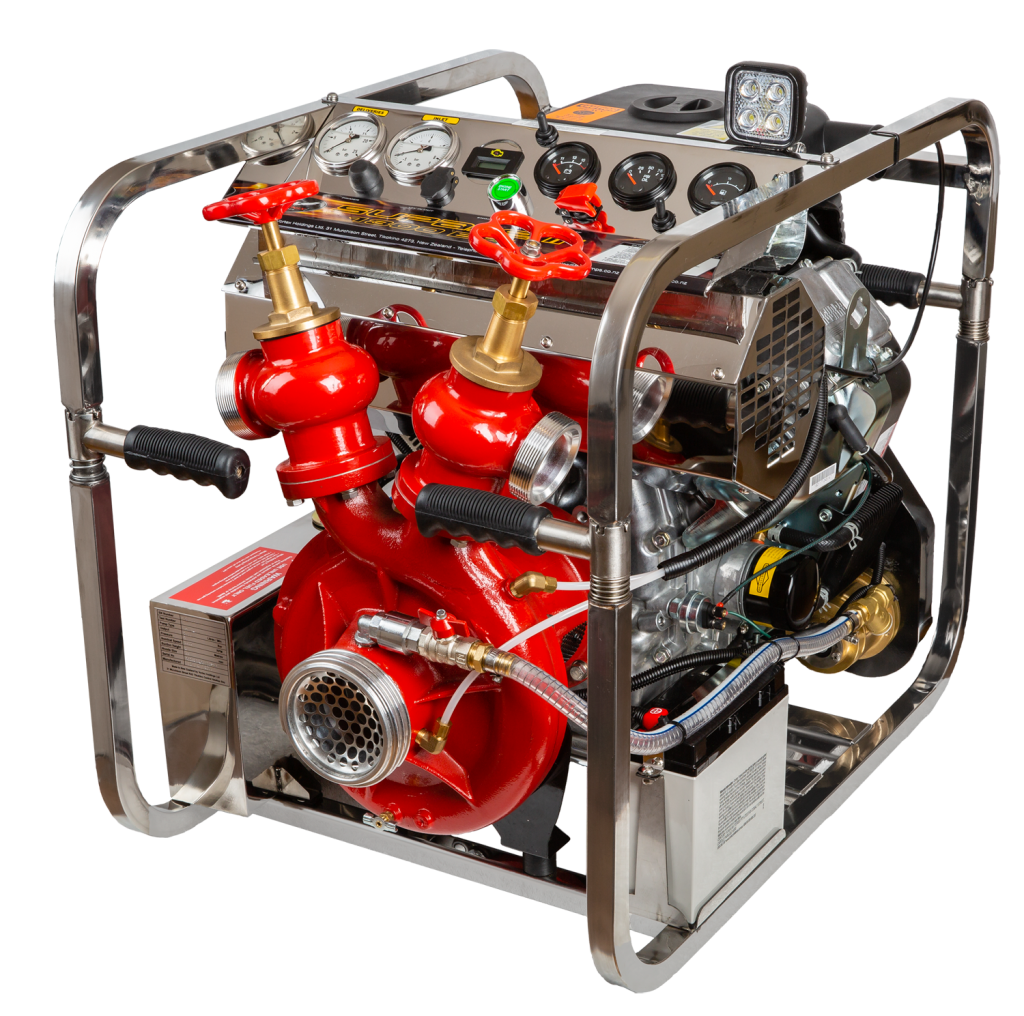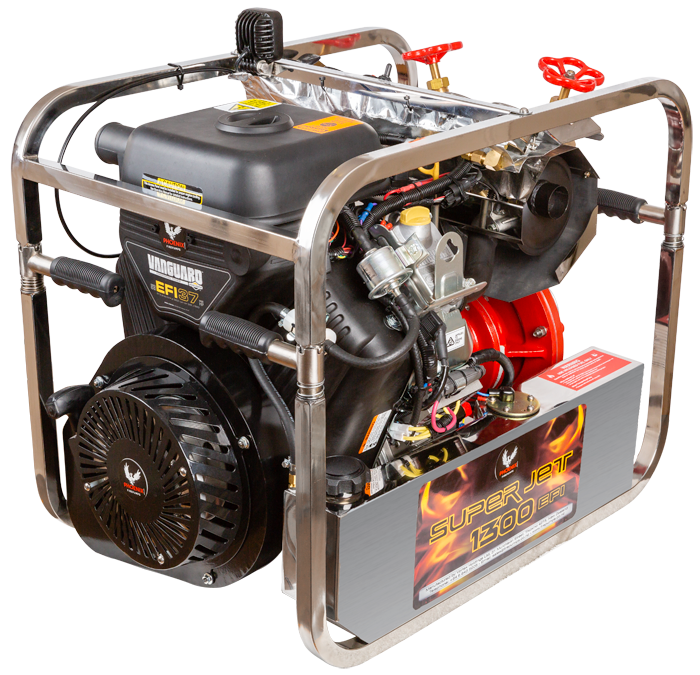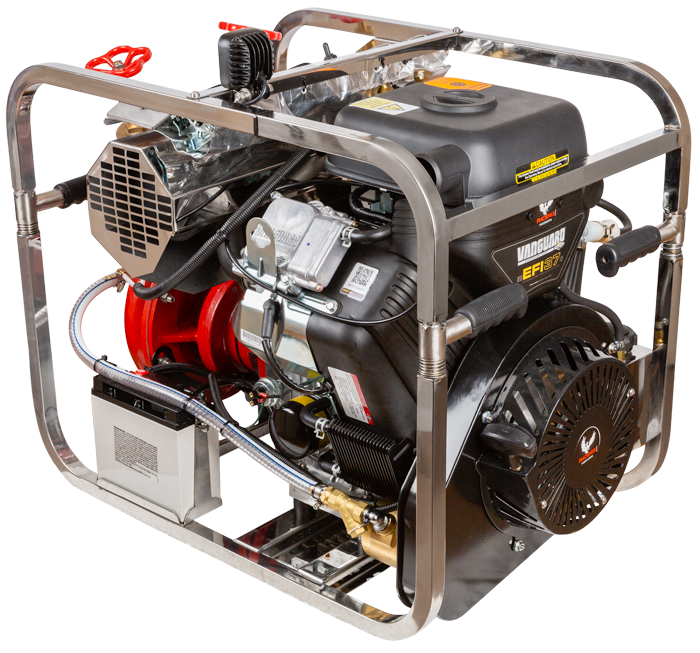 Focus on the job, not on your equipment.
Phoenix Firepump is technology you simply won't need to worry about.
This is the way technology should be.
More Gasoline Driven Pumps